A sports car-themed party with a hint of Bugatti: Max's 6th birthday
Trish Stratus
October 2, 2019
---
---
It's that time of the year again – Max's birthday! This year Max is super into cars. He apparently has been studying them as we've been driving around because suddenly he is rifling off the make and models of cars as we do our daily commutes. He has a particular fondness for sports cars and muscle cars, old and new and one in particular has captured his imagination – the Bugatti. Only one of the fastest and most expensive cars in the world that Max is obsessed with it – he says he's getting one when he turns 16 – no pressure (Bugatti Chiron is the first supercar to break the 300 mph barrier). So when it came time to plan his 6th Birthday – the theme was obvious: car themed with a hint of Bugatti. First creation – this Maximus logo. With this made, you could say, I was off the races (pun intended)




Once the theme is picked, I focus on the colour scheme. I almost went with the iconic blue and black of the Bugatti Chiron, but then thought of some fun ways to utilize the black and white checked pattern of a racing flag and chose to accent with red. Here is my starting vision board.




The first thing I did that really defined the look of the party was create this cool feature wall for the dessert table. It took some measuring and leveling, but this was super simple and made a big impact. I used black and white 7" paper plates. Easy peasy.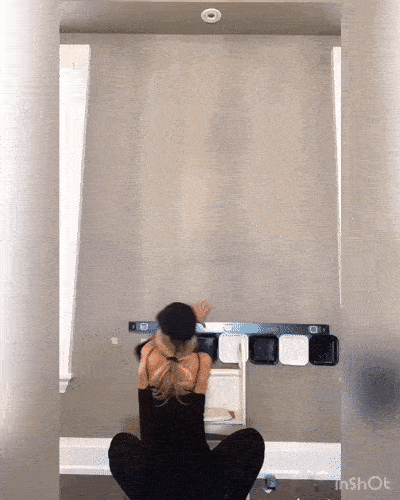 The area I used that was able to house this feature wall only allowed for a 4" table but I didn't want it to look dinky (I usually use a 8" table), so I added the illusion of more length with a set homemade racing stop lights on either end. All I did was spray paint some boxes black and added green, yellow and red round paper plates for the lights. I topped it off with a customized happy birthday banner, added a black and white checkered pennant banner and a few balloons to complete the look.




Next up – the cake! Last year my lovely and talented neighbour Meeta created an awesome low rider for Max's hip-hop/rap themed party, so of course Max was expecting a Bugatti shaped cake. But one of the gifts I had for Max was a 1:24 Bugatti Chiron so we created a cake with all the party decor elements and I used his gift as the cake topper. He was so excited – especially about the fact that he could keep the Bugatti instead of eat it!




With limited space on the dessert table I kept it simple.

Max's fave cars on logo'd cupcakes:




Popcorn – always a hit with the kids (big and small).




I jazzed up some store bought mini doughnuts with a dollar store truck. The cute 'tire sale' sign really made it though!




If you ever wondered what a charcuterie board for a 6 year old's car themed party would look like:


When you make a charcuterie board for a 6 year old's car themed party pic.twitter.com/Qv0k7UilBM

— Queen of Queens (@trishstratuscom) September 29, 2019


When I go theme – I go all out and the theme suddenly finds its way into other areas of the house.




How cute are these motor oil cans? I just covered cans of beans with a customized label.




Tables were decked out with the car theme too. I used black and white checkered duck tape on the water bottles to add a little pop. And the 'road' table runner is actually a chalkboard – great to keep those little diners busy and seated at the table!




Even though they were barely used as we had a food truck and an ice cream truck come and we were blessed with a splash of good weather so we enjoyed our grub in the sunshine!




Well, that's a wrap on Max's 6th birthday party! It's been fun exploiting Max's interest in his birthday parties – the hope is that he had as much fun at his party that I had at putting it together!

Check out more photos below!



List of resources:

« Prev story
Next story »