Canada's Got Talent: 9021-Oh my goodness, guess who made the finals?
Bob Kapur
May 3, 2022
---
---
TrishStratus.com special guest columnist Bob Kapur recaps Canada's Got Talent airing Tuesdays on Citytv.



We're down to the semi-finals of Canada's Got Talent, and the competition is heating up. Tuesday night's episode was the first semi-final round, with two acts hoping to be selected as finalists by the judges. And the other seven acts hoping to do enough to impress the viewers at home who will have the power to vote in two other finalists to compete on the finale on May 17th.

As Trish posted on her Instagram earlier today, she had contracted COVID during the week of the taping of this episode, so was unable to be there. Thankfully, she is now fully-recovered and she will be back behind the desk for the live finale.

With Kardinal Offishall also away, Howie and Lilly were joined at the judges' table by none other than actor, director, and Canadian icon, Jason Priestley – who looks like he hasn't aged from his 90210 days. So, now that everyone's here, let's go, as we present the semi-finalists.


Advertisement
GRVMNT



Some of the motivation for this dance troupe to win was to help them afford an actual rehearsal studio, instead of the parking lots and other outdoor locales that they'd been using. Lilly's similar experiences during her formative years was in part her motivation to make them her Golden Buzzer pick.

Their hip-hop influenced dancing was truly fantastic. The choreography was tight, they perfectly blended breakdancing elements with some cool gymnastics, mixing up the speed of the movements so that sometimes it looked like they were in fast-forward and then on a beat they'd switch it to almost Matrix-style slow motion. This was a great kickoff to the show.

All the judges were impressed by the variety and extent of the choreography, and Lilly could not have been happier with her decision to put them into the semi-finals.


Sebastien Savard



Savard's audition saw him play a fiddle while balancing a ladder on his face. A health-care worker, he signed on to CGT to get back into his love of playing music, and decided to combine that with the unusual balancing skills – and the interview clip showed him balancing other objects on his face, so don't you dare call him a one-trick pony.

For the semi-finals, he played an East Coast fiddle tune, mixing things up by playing behind his head. He then took things to the next level by playing while balancing a cello (or it could have been a stand-up bass, I'm not sure of the difference) on his face. But then he outdid that for his final trick, balancing the cello which was perched upon a 20-foot pole.

Howie found the actual musicality better than during the audition, but wondered if Sebastien had peaked. Jason had a similar question, but Lilly did say she was impressed with the size of his pole. For the final trick, I mean. Get your mind out of the gutter if you thought something else.

My hot take: Sebastien's audition blew my mind, and you wouldn't have found a bigger fan. But tonight's performance, I thought, was underwhelming. I didn't think the cellos were as impressive visually as the ladder – I kept hoping with the first one that he would reach up and play that and switch between the fiddle and the one atop his face. The fiddling was fine, but I don't think that he truly levelled up, and I think that is going to keep him out of the finals.


Shea



For those who aren't watching the show, and only reading the recaps, Shea's name is pronounced She-ya.

But with this performance you could also say "She's-a." As in "She's a heck of a singer." Her acoustic rendition of Paramore's "The Only Exception" was pitch-perfect, her voice cascading between high power notes down to tender whispers.

Howie was concerned that her song choices and her look – which was really glammed up, and belied her age (14) – might not necessarily fit her look. Lilly disagreed, saying that Shea was the complete package and that everything was in sync.


Chucky Mady



During the introduction video package, Howie and Lilly's comments – noting that Chucky's ability to tear open aluminum cans with his teeth was certainly unique, but he had no compelling presentation to showcase the ability – made you wonder why they selected him for the semi-finalists to begin with. Chucky took the feedback and said that he would incorporate some more theatrics into tonight's performance.

He brought his father with him – who Chucky said was an inspiration and who supported him throughout his childhood trauma (Chucky was bullied due to his alopecia). His first few stunts were certainly impressive, breaking through concrete slabs with his fists, forearms, and feet. He then had his father smash a bunch of wooden poles on various parts of his body.

But even Papa Mady wasn't enough to impress the judges. Howie and Jason got bored by the repetitive nature of the performance, and eventually Lilly did as well, and they all gave Chucky the dreaded red X. Canada's vote may save him, but chances are that Chucky Mady made it as far as he's going to.


Arik Pipestone



Like with Chucky, Arik's presence in the semi-finals is, on the surface, a bit puzzling, since not all of the judges voted to put him through to the semi-finals. Howie in particular neither understanding the story Arik was trying to tell during his Hoop Dancing routine, nor was he impressed by the actual performance during which Arik dropped a hoop.

Tonight, Arik said he was going to pay homage to legendary hoop dancer Nakotah LaRance, who passed away in 2020. Using Nakotah as inspiration, Arik wants to bring Hoop Dancing to higher prominence and help showcase the art form across the world.

His dancing – to a popping hip-hop tune – was more impressive this time, as he twirled and whirled around very fast, while simultaneously performing various tricks with the hoops. In a neat visual, he interlaced the hoops into an orb, and then quickly collapsed them and threw them back into his act, spinning them around his various appendages.

Howie did a full 180 from the audition, saying that this time he understood the story Arik was telling and that Arik really stepped it up from last time. Lilly loved Arik's attitude and that, unlike last time, Arik didn't get fazed by his stumbles. Jason, a west-coaster, said that he'd never seen a Hoop Dance like this one.

My hot take: While this might have been a better performance than last time, I still didn't get it. I appreciate the difficulty of the moves that Arik did, and enjoyed some of the tricks he did like the aforementioned orb. But, using my litmus test of whether or not I'd pay to see the act, that's a no from me.


The Sentimentalists



This mentalist duo was proud of the way they creeped out the judges during their audition. They basically promised they'd turn it up a notch for the semi-finals, and bring the audience into their scary realm.

Their first trick saw Steffi apparently mind-read Lilly to know what number Lilly had randomly rolled on a die. After selecting Howie to join them on stage based on him picking a 2-digit number, Steffi then correctly guessed the word that Howie randomly selected from a random line on a random page of a book. In the climax of the act, they showed that they had actually predicted – in advance – the number that Howie would pick that would result in him going up on stage.

Once again, the judges were freaked out, confused by, and impressed by the act. Lilly thought the audition was actually more impressive than tonight's act. But Jason predicted that the Sentimentalists would be on the stage during the finals.


Kellie Loder



Although Kellie sang a Bob Dylan song in the audition, their (Kellie's preferred pronoun) dream is to ultimately play original songs. Kellie said that music was their refuge when struggling with gender identity issues, as music is one medium that points one to their true, authentic self.
Kellie's dream came true when they performed a mash-up of an original tune and a ballad arrangement of "The Best" by Tina Turner. The slowed down, toned down performance hit every emotional beat and every note perfectly. This was truly a case where the performer transformed the song, making it their own.

All of the judges felt the connection that Kellie had with the song and the way they performed it, saying that she had what it takes to succeed.

My take: After that performance, Kellie should be a shoo-in for the finals. They really know who they are as a performer – hopefully the audience can recognize and appreciate that enough.


Courtney Gilmour



During the introduction package, Courtney and the judges reiterated that people should feel comfortable laughing along with her when she tells jokes about her disability, despite any initial reservations they may have. She said that her focus is on making people laugh using any material that she thinks is funny.

Her act was another laugh-a-thon, with jokes about her family in particular that would be funny in any context, and not just in the context of her disability. The judges ate up the performance and the audience did as well.

Howie noted that Courtney brings some great humour at a time when laughter is really needed by everyone. They praised her material, her delivery, and said that she could easily be a strong contender for the finals.


Shadow Entertainment



Howie wasn't completely blown away by the audition of this Indian dance troupe, but Lilly's understanding of the culture effectively convinced him enough to give them his Yes vote. The dancers said they were going to really turn it up a notch this time, with new choreography, new styles, and a new energy.

This performance, which was more of a traditional Indian dance style than the audition, suffered from the same "looseness" that Howie had issues with before. Lilly loved the cultural representation, but noted that they were missing some of the intricacies that would really make the performance pop – such as making sure they completed every move with more flourish. Jason really enjoyed the routine, but Howie felt that it may have fallen shy of the level needed to reach the finals.

My take: When compared with GRVMNT, the performance didn't feel as synchronized or as high-energy. Which is not to say that it didn't have its moments – it did, and there were times when they were all moving in perfect unison. But comparing one to the other, GRVMNT edged them out.


Judges' Finalists Picks

The judges announced their picks of the two acts that would be going to the finale: Courtney Gilmour; and GRVMNT.

Two other acts from tonight will be determined by audience votes, which can be cast at Citytv.com.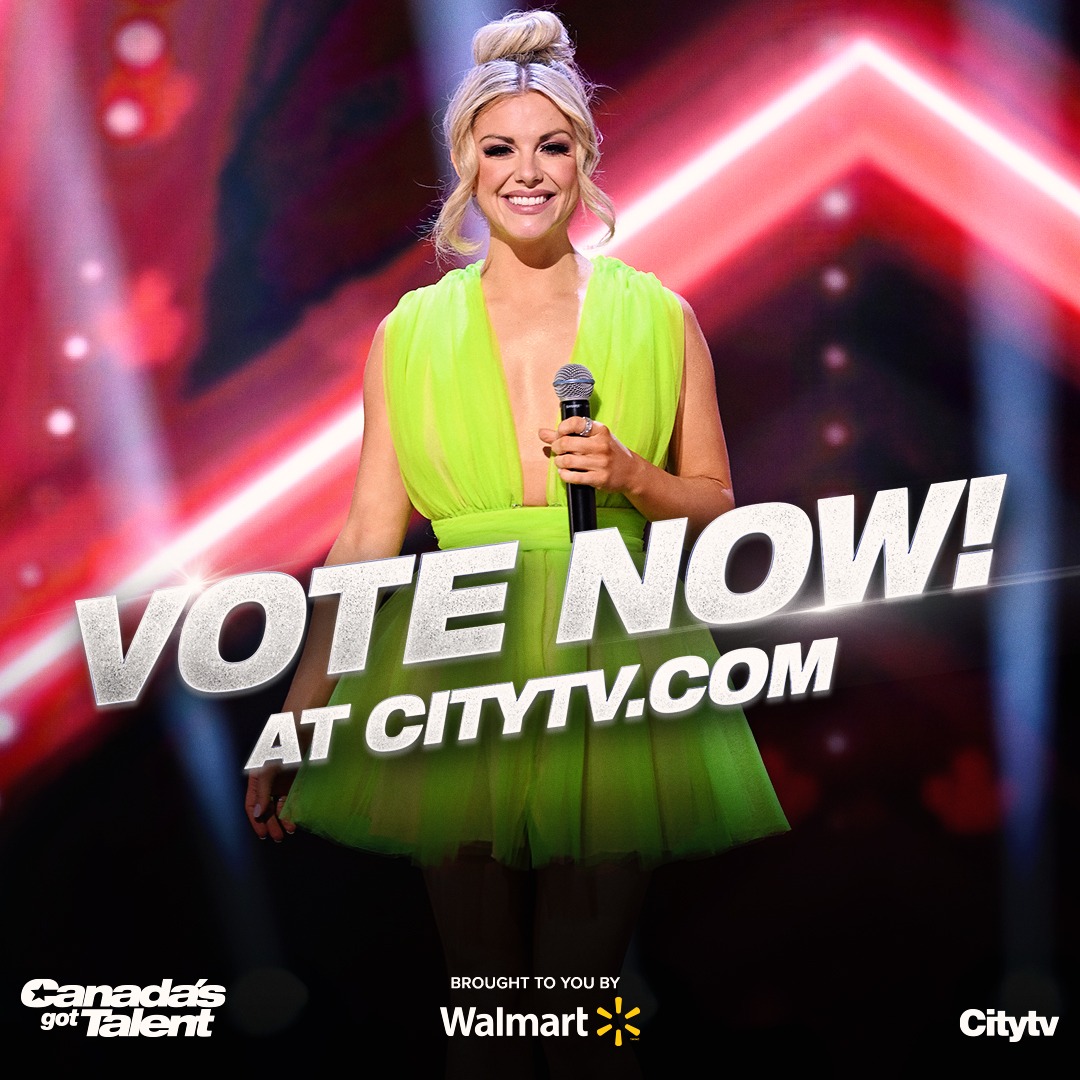 Vote now »



Other thoughts:

During the audition shows, host Lindsay Ell didn't really get a chance for a lot of interaction with most of the acts. Tonight, she finally got some major screen-time, interviewing them after the judges' comments to get their reactions. She did a great job. I wasn't wild about her neon lime green dress, but as the majority of my wardrobe consists of tie-dye T-shirts, I may not be the best judge of fashion.


True story – I once photobombed Priestley on the red carpet at a Canada's Walk of Fame ceremony – but, unsurprisingly, he was a totally good sport about it. Seriously, he seems like just an awesome person overall. When 90210 was all the rage, I tried wearing Brandon Walsh sideburns in the hopes that I would look as cool as he did. I failed miserably.


Lilly was completely stylish in a fringed black and silver sparkly outfit that looked totally on fleek, as the kids say.


It's a bit surprising that neither singer made the cut, as these competitive talent shows often gravitate towards that kind of act. I think of the two that performed tonight, Kellie Loder had the better performance.

What did you all think of the show? Let me know in the comments below.